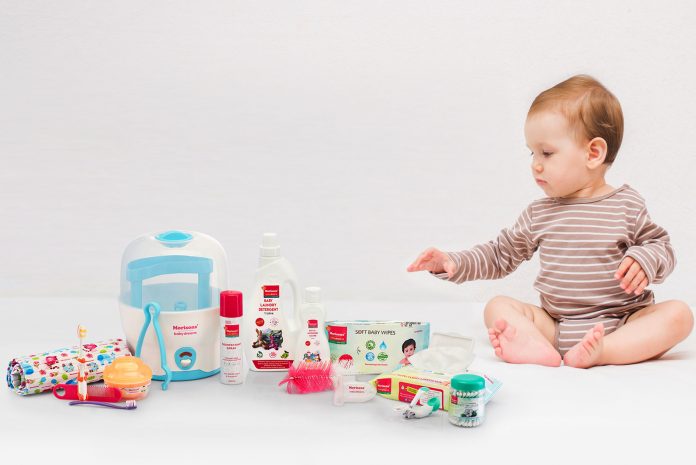 We all know that everything babies come in contact with rockets towards their mouths at 100 smiles per hour! Which makes your little cherub vulnerable to coming in contact with harmful bacteria and viruses. It's why we have created these must-have health and hygiene products that'll help make every environment baby-safe.
Whether you need to clean your baby's mouth or clean a little further south, our Baby Wipes are extremely handy. Safe, alcohol-free, paraben-free and enriched with Aloe Vera, these wipes can be used during playtime, mealtime and diaper-change time. Made from woven spunlace, these dermatologically tested wipes are very soft and ideal for moisturising baby's skin.              
For your baby, every place is Germ-Many. Which is why our Disinfectant Spray is a must. It eliminates 99.9% germs including a range of viruses, bacteria, mold and fungi from hard surfaces and soft, making your baby's world virus and bacteria free! What's more? It is safe to use on baby gear, accessories and toys, so you can Spray Your Worries Away!
This spray should be a must while you are traveling with your family. Check out our blog on traveling with your family during the pandemic here.  
Some things are just not meant for babies. Like adult detergents. I mean, if it deters gents, it should definitely deter moms as well. Poor joke but the truth is adult liquid detergents are a poor choice for babies. They contain chemicals galore and are often harsh on the baby's skin. (Read our blog here to know more). Our paraben-free Baby Laundry Detergent on the other handis powered by lime and is tough on stains and gentle on your baby's skin and your hands. It also softens the fabric and has a refreshing fragrance.
This is the quickest, safest and easiest way to sterilise feeding bottles and their accessories. It has the capacity to sterilise 6 bottles simultaneously. It is also equipped with auto shut off facility and takes only 8 minutes to complete the process. Note – sterilising is far more effective than boiling. To know more about the product, click here to read our blog.  
Bottle and Accessories Cleaner
Do your baby's feeding bottles always smell of old milk? Liberate your baby's feeding bottles from stale smells and stubborn stains with our Bottle and Accessories Cleaner.  Made from natural ingredients such as Orange and Reetha extract, our cleaners contain no SLS/SLES, foam boosters, bleach or phosphate. They are also are rich in antibacterial properties and have a balanced pH.       
Super soft and super cottony when it comes to baby's ear cleaning our ear buds are your best buds ;). They are absorbent, gentle on the ear and have swabs on both sides of the stick.
If you have used any of these products, do let us know in the comments, which one is your favourite.