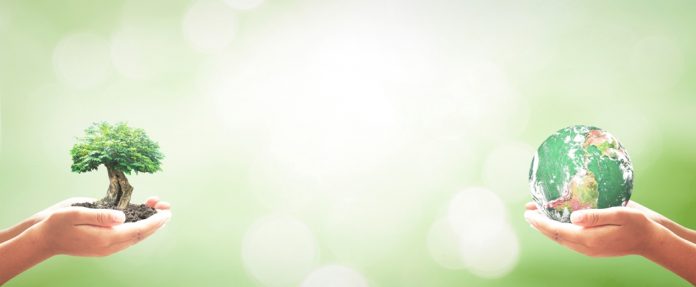 Hi, dear Mum! You've known me since the day you were born but I'm still going to introduce myself. Everyone calls me Mother. I mean your mom calls me mother. Her mum called me mother. And even your grandma's mother called me mother. Yup, I am Mother Earth (also known as Mother Nature). And I have a few words of advice. Think of this as a special edition of #SmartMumsForSmartMums
I was born green. Please help me stay that way.
Look around you; what gives you more peace of mind: miles of barren desert or acres and acres of gardens, plains and forests? Yes I too prefer greens! And to make me stay 'evergreen' I need your help. If your baby is about 2 years old, take him to a garden or even a courtyard and plant a seed (can be a fruit, vegetable or a flower) and then watch it grow with them. As he becomes older, give him more information about the tree that he helped plant. This bond will truly help him feel connected to the world around him. I tell you, dear Mom, this could be the start of a great friendship between your baby and mine.
Just like you, I like my home spick and span.
Litter makes me bitter. Plastic makes me sick. So please don't litter and don't let others do so either. Put on those rubber gloves, pick up a broom, and march to the nearest park or public space that is littered with garbage and embark on a cleanliness drive. You can also involve other mothers in your neighborhood. After all these are spaces that you probably regularly take your baby to. Your little one can observe this frenetic activity from the comfort of his pram. Babies might not be able to speak till they're a little over a year old but their minds absorb a lot of information. Your cleanliness drive is a great way to teach your baby the importance of creating a cleaner and sustainable planet for all.
Your kid has a play date.
7.7 billion humans are my children. But so are the trees that cool the environs and provide food for the entire planet; the mountains that adorn my crown; the bees that make honey and support the ecosystem; the animals that dwell deep in the forests; and many, many other creatures big and small. It's time to introduce your baby to the rest of the world. Set out on nature trails where he might spot never-seen-before insects and animals. Go to the zoo. Let him imitate his favourite animals. Try a spot of star-gazing with him (he'll be keeping you up every night, I imagine, so this should be easy). And let him to get to know the many wonders of this world.
Ours is the best kind of friendship.
While I understand that you and your baby require loads of 'stuff' can I make a request? Can you please choose apparel and baby products that are eco-friendly? Go for organic cotton fabrics, bamboo breast pads, biodegradable bottle cleaners, disposable plastic and chemical-free products. Use less electricity. Don't waste water. Basically, if you can opt for buying and doing things that please your heart without damaging my heart it would do me 'world of good'.
And on that pun, I'm going to sign off but please do share this blog with your friends and family. And, dear mum, send an email, or share the link, do not take a print out. I mean, we don't want another tree to be destroyed, do we?