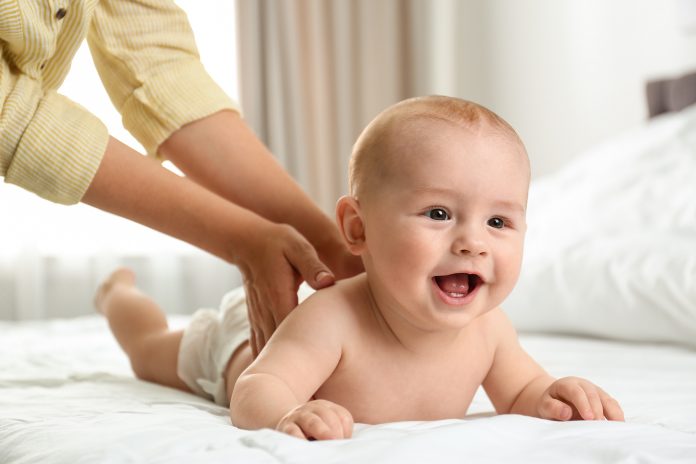 While smart mums like yourself may prefer WhatsApp, we are pretty sure that babies have an affinity for SMS; that's the code for Short Massaging Services! Express love to your baby through this language of touch. You can also rope in your hubby to give a helping hand as a massage is a great way for you and your partner to bond with the baby. In this blog we "touch" upon the various benefits of massages. Let's get started!
A restful night for baby. (And you!)
A baby sleeping peacefully at night is every mom's dream. A soothing massage is a great way to put your baby to sleep since it helps to get your baby's circadian rhythms on track. In simpler terms, this means that your baby will sleep more soundly at night and stay active during the day. PS. Massages also keep crankiness at bay!
Happy tummy. Happy baby.
Massaging the Vagus nerve can improve your baby's digestion and bowel movement, helping him gain weight. This nerve connects the brain with important parts of the body, including the stomach.
Happy mummy. Happy baby.
Massages also trigger the release of Oxytocin in you and your baby. This feel good hormone puts everybody in a good mood. In essence, you'll enjoy giving massages as much as your baby will love getting them.
Good health is in your hands
Moms going through postnatal depression can get over their lows by regularly giving rub-a-dub-dubs to their babies. Massages also help to keep the heart rate and brain activity stable in premature babies. Studies have also shown that a massage can help your newborn recover more quickly from jaundice. Apart from these benefits, a good massage also helps your baby develop mentally, socially and physically.
Anytime is not massage time!
The perfect time to massage your baby is between feeds. It's when your baby is not too hungry nor too full. Night time too is the right time for a massage. This ensures that your baby's yawns will softly melt into sleep till dawn.
Massage them with the goodness of Mother Nature!
Massages are more effective when an oil / lotion is used. When you pick a baby massage oil / baby lotion ensure it is one made from natural ingredients and is free of chemicals. Ingredients like Neem, Coconut Oil, Almonds and Sesame Oil can reap great benefits!
PS. Singing a lullaby as you massage your baby makes the whole massaging experience even more special. So in the comments below tell us what is that one lullaby you sing to your little one.