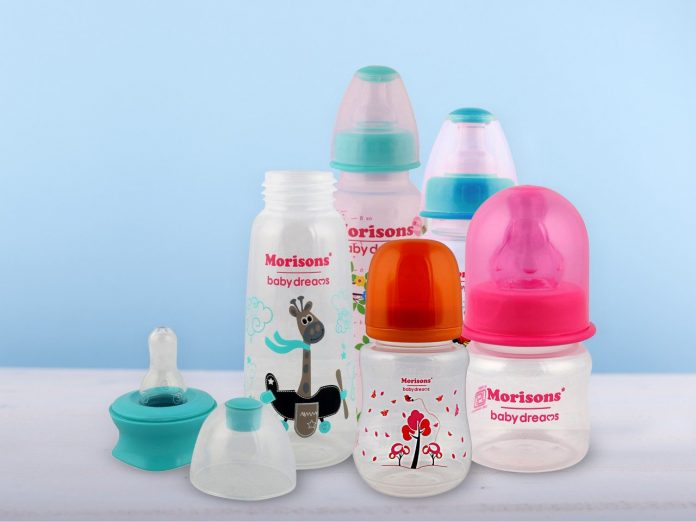 Like the experts say: Breastfeeding is best for your baby. And we encourage every mom to do the same. While that should always be your first plan of action, it is best to be prepared for some unforeseen 'what ifs'.
What if you can't feed your baby due to ill health? What if a bout of urgent work drags you away from your little one for a short snatch of time? What if your baby keeps getting distracted while you are nursing him or her (a common occurrence for babies who are more than 6 months old)? What if your tiny tot has started using his new teeth on everything and everybody? And what if he has even nipped you while being breastfed leaving you with sore nipples and a silent scream that if heard would sound like: See you later you little alligator?
Well, that's where we come in and encourage you to hit the bottle. Morisons Baby Dreams has a wide range of feeding bottles and accessories to make your baby's feeding / weaning journey easy and comfortable.
The Morisons Baby Dreams feeding bottles come in various sizes and shapes to offer your little bundle of joy an effortless experience. The feeding bottles are made of food grade PP and are BPA free.
Our special comfort feed bottles mimic the natural shape of a woman's breast, making it easy for your baby to make the temporary transition from breast to bottle. Your baby is in the habit of a particular sucking pattern from the day he is born. These bottles ensure that the flow corresponds to this natural sucking pattern. The nipple is also designed in such a way that it helps your baby latch on to it easily and suck effortlessly.
We also know that you're worried about the air bubbles which can occur while feeding through a bottle (Yes! We are mind readers, too). Don't worry! Every Morisons Baby Dreams bottle provides anti-colic feeding, ensuring that no bubbles (that can cause stomach pains and troubles) occur.
To learn more about our feeding bottles, please go to <https://www.jlmorison.com/shop/babycare/feeding-and-nursing/bottles.html>
A word of caution: Your husband may never get overly fond of our bottles. After all, once you are done expressing your breast milk into the bottle, you can pass the baton (and the bottle) to your hubby. And let him feed the baby while you catch up on the sleep you so desperately need! (Sigh!)
These bottles are also great travel buddies helping you feed your infant while in-flight or on your summer holiday or in a public park or promenade, et al.
Since this particular blog is so obviously a product plug (Yes, this once we are guilty as charged!), we'd like to come clean. Completely clean. Once you are done feeding your baby, you can use our 100% safe, anti-bacterial and anti-fungal bottle cleaning fluid for easy and effective cleaning. They are made from 100% food grade ingredients. What's more, our  3-in-1 energy-saving Travel Easy Warmer cum Sterilizer can warm, keep warm and sterlise. You can view it right here: <https://www.morisonsbabydreams.com/travel-easy-warmer-cum-sterilizer.html>
We have many other innovative products for all your breastfeeding and weaning needs. From our cute feeding bottle covers and double-layered milk powder storage containers to other feeding accessories that will help you strengthen the mother-baby bond through every moment of your baby's growth.
See you soon. And we promise you no more product plugs for at least two months! Ciao!