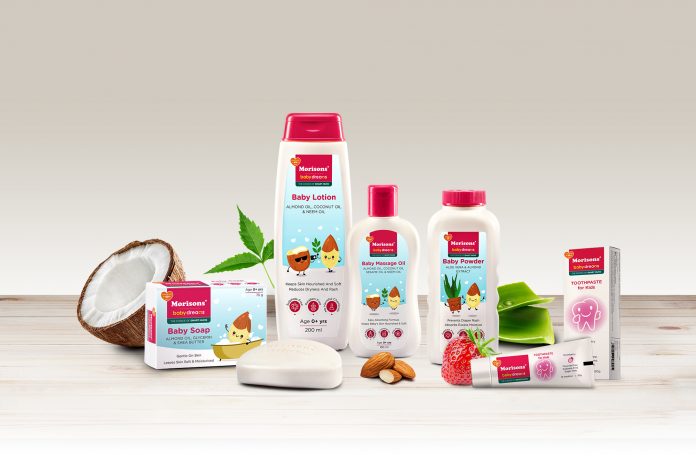 Our Baby Care Range is here!
We understand only a mother knows what's best for her baby. That's why our newly launched Baby Care range is infused with natural ingredients that are as pure as your love. Created with the goodness of Almonds, Neem, Sesame, Coconut oil, Shea butter and other such time-tested ingredients, our Baby Care Range is truly beneficial for your baby.
Dry skin is never in!
Who doesn't love a baby's skin? Soft, supple and the perfect antidote for a rough day, the feel of your baby's cheeks on your own is a pleasure no parent tires of. Here's how you can keep your baby's skin forever soft. Use a good baby lotion/moisturizer that will lock in all the moisture of the skin and prevent it from drying. Like our newly launched Baby Lotion. Enriched with the goodness of Almond, Neem and Coconut oils, it is paraben, sulphate and chemical free.
Get your baby squeaky clean!
Make a clean break from soaps that use parabens, sulphates and other chemicals. Switch to our Baby Soap. Made with natural ingredients like Shea Butter, Almond Oil and Glycerin with a balanced pH, our Baby Soap keeps your little one moisturised for much longer which is a boon since babies tend to lose moisture far faster than adults.
The caress of nature!
Time to Rub-A-Dub-Dub some Mother Nature's love into your baby. From strengthening the parent-child bond to building muscles and enhancing their quality of sleep, a gentle yet deep massage has many benefits. Our Baby Massage Oil with its natural ingredients like Almond, Neem, Coconut and Sesame oils, easy absorption formula and mild fragrance is your perfect ally for the perfect baby massage.
Powder Puff Girls (And Boys!)  
Pesky diaper rashes will be a thing of the past once you start applying our Baby Powder. Pat some powder on your little cherub to let natural ingredients like Aloe Vera and Almond Oil work their magic! This is destined to become a staple in every baby's diaper bag.
A reason to smile!
Free from harmful substances like Fluoride, Sulphate and Sugar, our Toothpaste is here to make those pearly whites shine! Your baby will love its strawberry flavour and brushing teeth will become an activity he will look forward to. So make this your Baby's First Toothpaste!
So Smart Mums in the comments below let us know which product you are going to try out first!