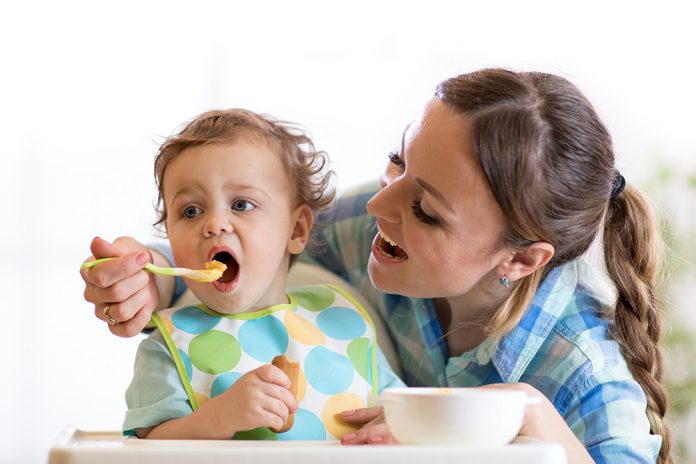 Your baby's first birthday is a joyous moment in time.
Your baby can now join you at every meal and eat what you eat as a family.
Yes, once your baby turns one year old, he / she should start eating regular family meals.
As your baby joins you at the table, it is important to evaluate your regular family meals and modify them to make them nutritionally balanced and healthy.
How to modify your meals to accommodate your one year old
Try to eliminate packaged and processed food from your house as far as possible.
Construct your meal plans to include fresh food cooked at home.
Buy seasonal and local vegetables and fruits.
When you use grains or cereals – opt for wholegrains that are not polished or refined as ingredients in all your recipes.
Use nuts and seeds that are rich in proteins and good fats – to increase the nutritional quotient of your baby's meals.
How to feed your baby
Encourage your baby to eat on his / her own.
Offer finger foods at most of the meals so that your baby can eat easily.
Start eating with your baby instead of feeding them first so that your baby begins to feel included in the family.
Never force feed your baby. Offer healthy food at frequent intervals and allow your baby to decide how much to eat.
Focus on how happy your baby looks while eating. Do not calculate calories consumed or grams of protein eaten.
Ensure that snacks are healthy, home cooked, nutritionally balanced and shaped into finger food.
More than anything else, toddlers need energy. So, ensure that you include unrefined complex carbohydrates in every meal.
3 small meals and 3 small snacks are the best way to offer meals to your baby.
Continue breastfeeding but offer a meal of solids before you breastfeed.
Precautionary measures when you feed your baby
When you introduce new foods watch out for food allergies.
Watch your baby carefully to avoid choking incidents when your baby eats.
While cooking, ensure that the food cooked does not have large pieces on which your baby can choke.
| | | | | | | |
| --- | --- | --- | --- | --- | --- | --- |
| | Early morning | Breakfast | Mid morning | Lunch | Evening snack | Dinner |
| Monday | Aliv laddoo | Dalia pongal | Baked falafel | Brown rice khichdi | Buckwheat pancake | Badam shorba with rice |
| Tuesday | Amaranth chikki | Haandvo | Beetroot paneer cutlet | Curd rice | Cheela | Beetroot soup with whole wheat bread / rice |
| Wednesday | Coconut laddoo | Millet idli | Thepla | Dal chawal | Millet vermicelli upma | Dal palak shorba with rice |
| Thursday | Dates truffle | Ragi and oats porridge | Moong dal cutlet | Sabudana khichdi | Seasonal fruit parfait | Mexican bean soup with whole wheat bread/ rice |
| Friday | Peanut and fig truffle | Pesaratu | Hummus with  steamed carrot sticks | Kodo millet jeera rice with dal |  Banana chocolate pudding | Rasam with rice |
| Saturday | Til squares | Dal sabji mini paratha | Dahi chana dal tikki | Millet pulao | Ragi pancake | Pumpkin soup with bread / rice |
| Sunday | Trail mix | Mixed millet dosa | Banana and amaranth cutlet | Rajma chawal | Chickpea cutlet | Tomato soup with whole wheat bread croutons / rice |
 Milk for your 1-year old baby
It is best to continue breastfeeding through the second year of life and for as long as the baby and mother are comfortable.
If direct feeding is not possible – breastmilk can be pumped and fed by a caregiver.
If breastfeeding is not possible, it is best to consult with your paediatrician to decide on the milk to be given and the quantity.
It is important to create a food chart like the one above when your baby turns one. This is because it allows you to offer your child variety in taste and a whole range of nutrients through the day.
By
Dr Debmita Dutta MBBS, MD
Dr Debmita Dutta is a practicing doctor, a parenting consultant and the founder of the website WPA whatparentsask.com – She is based in Bangalore and conducts online and offline Parenting workshops at schools and corporate organizations. She also conducts online and offline prenatal classes for expecting parents and infant care classes for new parents.