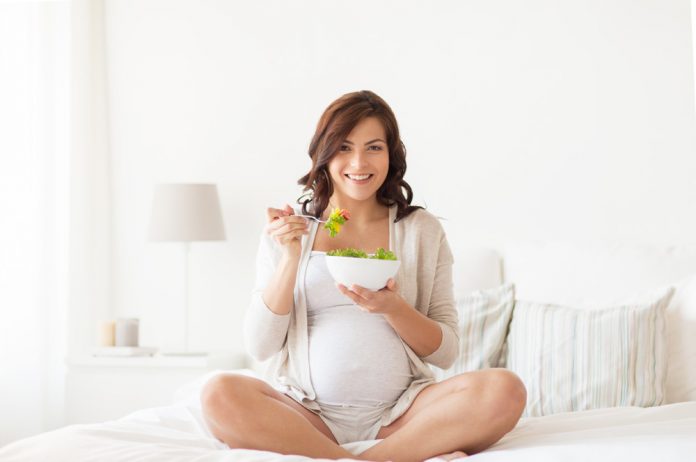 Have you heard that "Breakfast is the most important meal of the day"?
Well, so has everyone else.
But I'm sure it won't surprise you if I told you, that whenever I ask pregnant women who come to me for prenatal classes the question "What do you usually eat for breakfast?"
The answer usually is "Nothing."
Well, if you are pregnant – you have to start saying "Yes" to breakfast for the following reasons.
3 reasons you must eat breakfast when you are pregnant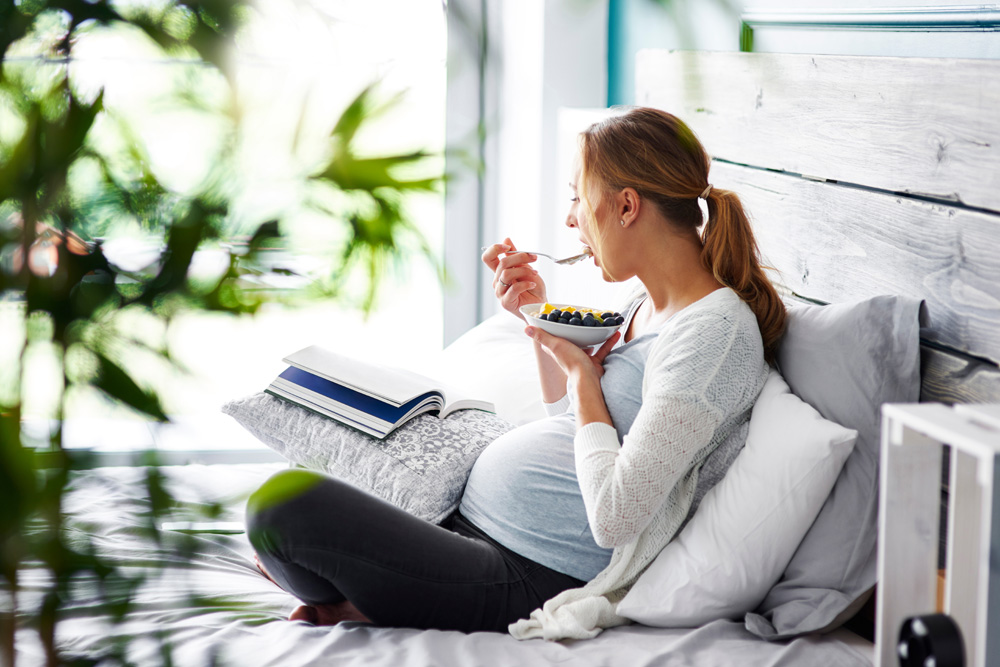 Your baby is growing all the time and needs a constant supply of nutrients as raw material for organ building. Between dinner and breakfast no nutrients have entered your body. So you must eat breakfast and replenish the supply of nutrients.
If you don't eat breakfast – your blood sugar levels will crash later in the day and you will make unhealthy food choices. In other words, you will eat junk food that will make you fat – without supplying any useful nutrients to your baby.
Breakfast will give you the physical and mental energy to take on the day. Otherwise, the fatigue and nausea of pregnancy may make you feel depressed and unhappy.
Use the following ingredients when you plan for breakfasts during pregnancy
Ragi
Ragi is a nutrient-rich millet that is easy to digest. And you must start eating ragi if you are pregnant. Sprouted ragi is an even better source of nutrients.
Ragi is very easy to cook and can be made into: Ragi dosa, ragi porridge, ragi pancake, ragi malt, ragi laddoo, ragi cake, etc.
Fermented batters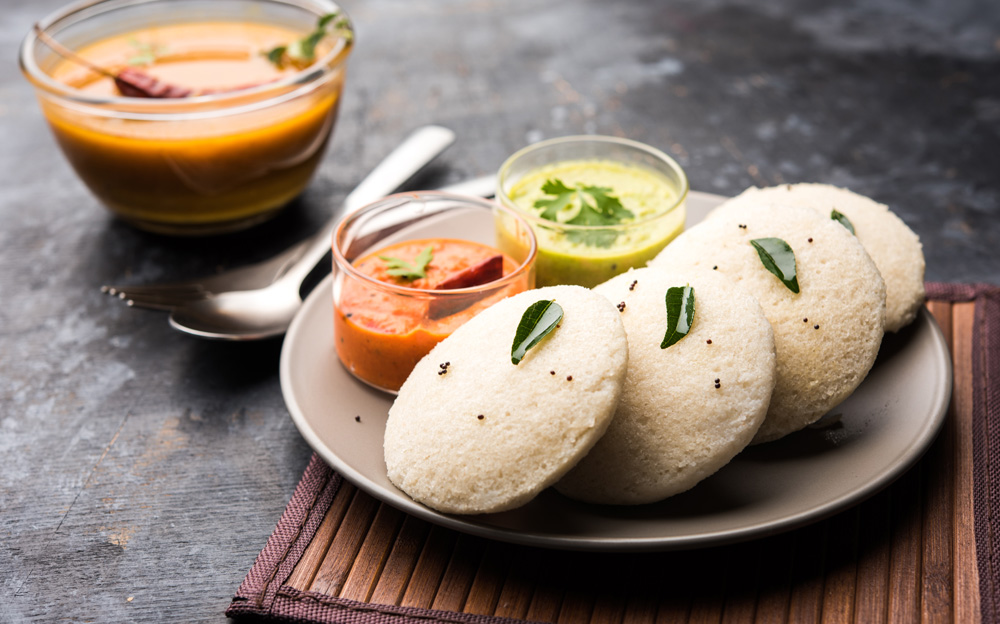 Fermented batters are used to make traditional Indian breakfasts like dosa, idli etc. Fermented foods are easy to digest, nutrient rich and full of good bacteria. They have the ability to boost immunity and keep you in a good mood.
Fermented breakfast foods: Idli, dosa, dhokla, etc.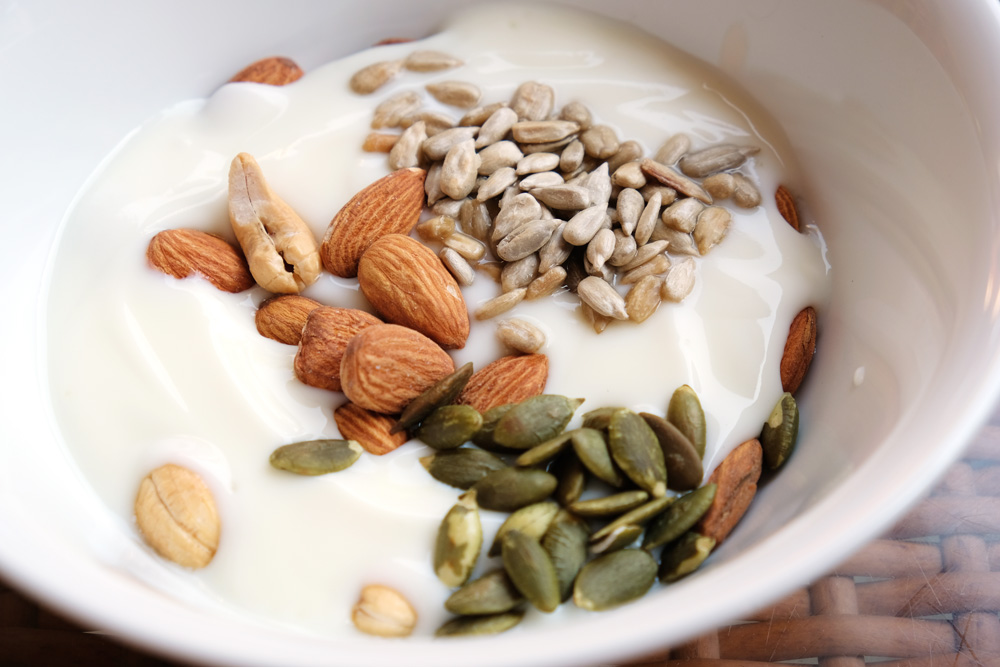 3. Curd
Curd has protein and calcium and is wonderful because it is a probiotic.
Eat curd at breakfast as – Raita, chaas, lassi, etc.
4. Whole grain-based breakfast cereals
Whole grains are rich in vitamins and minerals. They also keep your blood sugar levels stable for longer.
At breakfast eat: Jowar flakes, poha, foxtail millet upma, etc.
5. Nuts and dry fruits
Nuts and dry fruits are rich in all nutrients.
Use peanuts, cashew nuts, raisins etc. in upma, poha and chutneys.
6. Spices that aid in digestion
Spices like hing, jeera, rai and til aid in digestion and you can use them to season breakfast items like poha, peanut chutney and dhokla.
7. Ghee
Ghee is a source of healthy fats. It keeps your blood sugars from fluctuating and nourishes your gut bacteria to ensure that everything else gets digested and absorbed easily. Use ghee to fry parathas and dosas, or season poha and upma.
Food
Advantages of eating
Recipe
Ragi
1. Rich in nutrients

2. Easily digestible

3. Sprouting makes it rich in vitamins

4. Easy to cook

1. Ragi dosa

2. Ragi porridge

3. Ragi pancake

4. Ragi malt

5. Ragi laddoo

6. Ragi cake

Fermented batters
1. Easy to digest

2. Full of good bacteria

3. Nutrient rich

4. Boost immunity

5. Improve mood

1. Idli

2. Dosa

3. Dhokla

Curd
1. Rich in protein

2. Good source of Calcium

3. Probiotic

1. Raita

2. Chaas

3. Lassi

Whole grain cereals
1. Complex carbohydrates keep blood sugars stable

2. Good source of vitamins and minerals

1. Jowar flakes

2. Brown rice poha

3. Foxtail millet upma

Nuts and dry fruits
1. Rich in protein carbohydrates and fats

2. Loaded with vitamins and minerals

1. Peanut chutney

2. Cashew nuts and raisins in upma and poha

Spices
1. Aids in digestion
1. Hing Jeera Rai til saunf to season upma poha and chutney
Ghee
1. Source of healthy fat

2. Keeps blood sugars stable

3. Nourishes gut bacteria and aids in digestion

1. Use to fry dosa and paratha

2. Use to season poha and upma
Pregnancy is the time to start living a healthier life. So start eating a healthy breakfast now.
By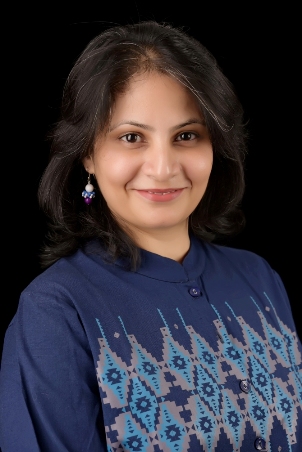 Dr. Debmita Dutta is a practicing doctor, a parenting consultant and the founder of the website WPA whatparentsask.com – She is based in Bangalore and conducts Parenting workshops at schools and corporate organizations. She also conducts prenatal classes for expecting parents and infant care classes for new parents.